旅&自然とのつながり&学び&国際交流、4つのテーマで、社会に
貢献する会社を運営します。旅行事業、学び、交流活動を通じて、
日本と海外の橋渡し、人々の豊かなライフスタイルにつながる、
情報や人々との出会いを提供します。また日本の若者の海外への
興味や国際交流又地球の自然を愛する心を持つ様な活動を啓蒙します。
Blue Planet Explorer focuses on 4 themes of travel, nature,education
and international exchange and cooperation, as key elements to
serve the society. We offer valuable information and opportunities for
people to meet and create a lifetime of memories, enriching one's
lifestyle, creating a bridge between Japan and the world, through travel,education, and international exchange activities. We also promote activities that will enhance the young Japanese people's interest for international cooperation and globalization, and their love for nature.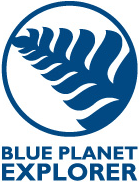 DESTINATION:鎌倉プロジェクト:世界の人々に本当の鎌倉の魅力を伝える・・・・
海外や日本に住でいる、外国の方々に、鎌倉の本当の魅力を伝え、鎌倉に2泊~3泊での滞在型の、文化体験、自然観察などじっくりとDEEPに鎌倉の魅力を紹介する。
鎌倉の国際的な観光に結びつく、さまざまな分野の方々とのネットワーク作りを通じて、鎌倉のデスティネーションとしての魅力や可能性を提案する。
さまざまな国際的なアプローチやプロモーションを通じ、鎌倉の知名度を広げ、日本文化や日本の歴史探訪、の体験窓口として、海外から鎌倉を訪れ、気軽に参加可能なアクテイビティーを作り運営、庭の鑑賞、禅体験、武家文化,花、茶道、弓道、陶芸、和菓子作り、お寺での宿泊、など、日本を体感し、学びや交流のある体験型観光の提案など。
外国の方々と日本人との交流を通じて、国際色豊かな魅力のある都市:鎌倉、日本の伝統や歴史、自然を海外の観光客に体感と学びの場としての、鎌倉と言う、質の高い、デステイネーションの構築を目標とする。
Kamakura is a place of real beauty and enchantment, with its vast culture, history and nature. A popular destination as it is, Kamakura has yet to offer a lot of cultural,nature and enchanting experiences for foreigners here and abroad to enjoy and experience.
Blue Planet Explorer will create tours that will enchant everyone – highlighting Kamakura garden viewing and appreciation, Zen experience,Samurai culture, Flower arrangement(Ikebana), Tea ceremony, Japanese art of Archery, Ceramic and Pottery Art, Japanese-style confectionery, Temple stay to name a few. Activities will also include opportunities for both Japanese and foreigners to meet and interact, promoting Kamakura's international ambiance.
Kamakura, an alluring and enchanting place with rich Japanese history and tradition, and vast nature is a highly recommended and must-see destination in Japan!

鎌倉の春 SPRING
鎌倉の夏 SUMMER
鎌倉の秋 AUTUMN
鎌倉の冬 WINTER